PROFESSIONAL COMPETITION 2023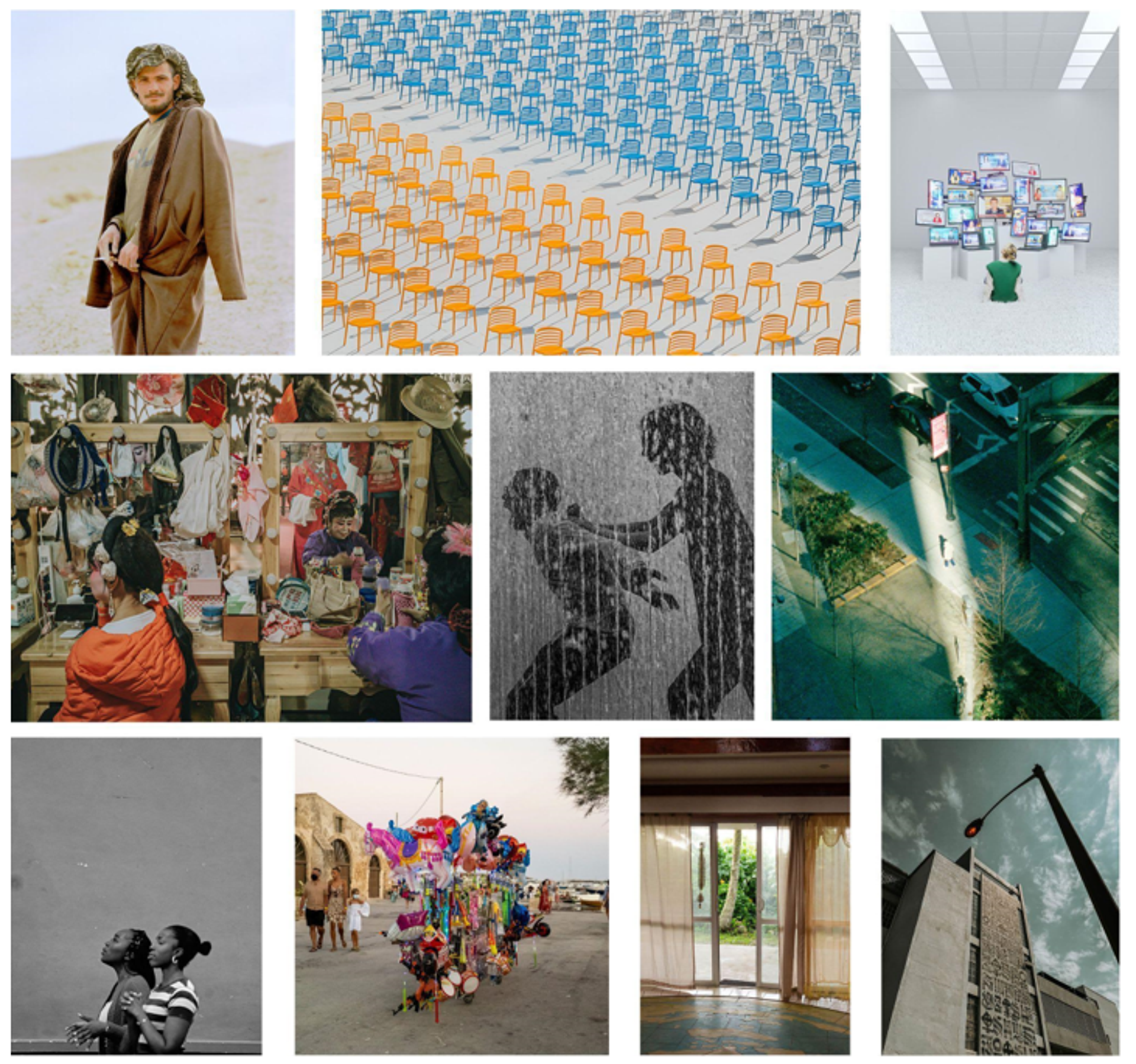 FINALISTS & SHORTLIST ANNOUNCED
EXHIBITION: 14 APRIL - 1 MAY 2023 | SOMERSET HOUSE, LONDON
The World Photography Organisation is delighted to reveal the finalists and shortlisted photographers in the Professional competition for the Sony World Photography Awards 2023. Now in its 16th year, the Awards' Professional competition rewards exceptional series of work both for technical skill and an original approach to storytelling.
The winner of Photographer of the Year 2023 is chosen from the Professional finalists and announced on 13 April. A selection of images by finalists and shortlisted photographers will be exhibited as part of the Sony World Photography Awards at Somerset House from 14 April-1 May 2023.
Over 415,000 images from over 200 countries and territories were submitted to the Sony World Photography Awards 2023 and over 180,000 were entered into the Professional competition - the highest number of entries on record.
The three finalists and projects per category of the Sony World Photography Awards 2023 are:
ARCHITECTURE & DESIGN
​ In In Memoriam: Muralla Roja by Ricardo Bofill, Andres Gallardo Albajar (Spain) pays tribute to the celebrated Spanish architect Ricardo Bofill (d. 2022), through a series of images of the maze-like interiors and exteriors of one of his most iconic buildings. In Stal-Vernacular Animal Sheds, Servaas Van Belle (Belgium) chronicles the architecture of animal shelters. Shot centre-frame in dense fog, the photographer considers the humility and humanity of these scarred and weather-beaten structures. Meanwhile in Cement Factory, Fan Li (China Mainland) captures the imposing remains of an abandoned cement factory in Southern China, shot in stark black and white.
CREATIVE
​ In The Right to Play, Lee-Ann Olwage (South Africa) explores female empowerment through education, using flower collage techniques to add a sense of joy, playfulness and hope to her portraits. In Africa Blues, Edoardo Delille and Giulia Piermartiri (Italy), use a projector to overlay images of environmental devastation onto scenes of everyday life as a way of highlighting the impact of climate change in Mozambique. Meanwhile, in Noemi Comi's (Italy)Lupus Hominarius archive imagery is juxtaposed with bright tones to explore historic folk tales of Werewolves in Calabria, Italy, where the legend was sometimes used to keep women close to home.
DOCUMENTARY PROJECTS
​ In Gaza strugglesto accommodate the living and the dead as population grows, Mohammed Salem (Palestinian Territory) follows a family compelled by overcrowding in the Gaza area to set up shelter and live in a cemetery. In The Women's Peace Movement in CongoHugh Kinsella Cunningham (United Kingdom) seeks to shed light on the frequently overlooked contributions of local women to the ongoing peace efforts in the Democratic Republic of Congo. Tariq Zaidi's (United Kingdom)Inside the Hamar Weyne Fish Market: the Heart of Mogadishu, Somalia, vividly captures the energy and atmosphere of the city's busiest fish market, where it remains a key source of economic activity despite the ongoing civil war.
ENVIRONMENT
​ Charting the gradual demise of the Colorado River, Jonas Kakó's (Germany)The Dying River explores the ways in which extensive human interference has impacted surrounding communities and their way of life. Miruku by Marisol Mendez (Bolivia) and Federico Kaplan (Argentina), focuses on the intersection of climate vulnerability and gender inequality through a series of images of an indigenous community from La Guajira in Colombia, experiencing a devastating water shortage. Elsewhere, in Green DystopiaAxel Javier Sulzbacher (Germany) investigates the burden and violent toll of the rising demand for avocadoes in Michoacan, Mexico.
LANDSCAPE
​ Taken over a course of 76 solo flights and 200 hours in the air, Event Horizon by Kacper Kowalski (Poland) is a series of strikingly abstract ice patterns over bodies of water in Poland in winter. In Postcards from Afghanistan after forty years of warBruno Zanzottera (Italy) captures the scars borne by the landscape of Afghanistan. Fabio Bucciarelli's (Italy)Loss and Damage is a study of the destruction caused by four years of consecutive flooding in South Sudan, depicted in images of buildings and vehicles half-submerged by the floodwaters.
PORTFOLIO
​Riverland and other projects by Marjolein Martinot (Netherlands) captures the feeling of a long and languid summer in photographs of bathers in Southern France. In Marylise Vigneau's (France)Portfolio, the photographer presents a collection of contrasting moments: from an old veteran recovering from Covid, to a portrait of a little girl in Lahore. Meanwhile James Deavin's (United Kingdom)Portfolio was taken while the photographer was living in Saudi Arabia, and juxtaposes images of migrant workers with images of leisure.
PORTRAITURE
​Afghanistan's Girls Athletes by Ebrahim Noroozi (Iran) portrays women with the equipment of the sports they are now forbidden from playing by the Taliban, their identities concealed by burqas. Our War by Edgar Martins (Portugal) is a homage to Martins' friend, photojournalist Anton Hammerl who was killed during the Libyan civil war in 2011 and whose remains have not yet been found. The series is structured as a self-portrait of Hammerl through posed images of the people he had photographed and met. Jean-Claude Moschetti's (France)Egungun looks at traditional costumes worn in Benin as part of voodoo rituals which honour spirits of the ancestors and perpetuate their memories.
SPORT
​ In Female Pro Baseball Player Succeeds in All Male Pro League, Al Bello (United States) documents the achievements of Kelsie Whitmore, the first female professional baseball player to play in an all-male professional league. In Mundialito, Andrea Fantini (Italy) captures the drama and excitement of one of the most important Indigenous Football Cups in South America. Meanwhile in Fallou Diop, the Unpredicted Hope of the Racetrack, Thomas Morel-Fort (France) follows a young jockey making a name for himself on the track in Senegal.
STILL LIFE
Cryogenia by Jagoda Malanin (Poland) considers the geological period of Cryogenian through photographs of small treasures chosen by her daughter and frozen into ice shapes, posing the question of what we will leave behind us. Inspired by the comings and goings of a nearby garden shop, Kechun Zhang (China Mainland) created The Sky Garden, a series of surreal images depicting plants and rocks hoisted through the air by cranes. In La Visita, Carloman Macidiano Céspedes Riojas (Argentina) documents the different meals requested by inmates in a prison in northern Peru, the images representing the tenderness, and affection of visiting families.
WILDLIFE & NATURE
Following a journey deep into the forest, Sriram Murali (India)'s series Billions of Synchronous Fireflies Light up a Tiger Reserve captures the dazzling sight of thousands of fireflies synchronising their flashes. Meanwhile, Adalbert Mojrzisch (Germany) reveals the unexpected vibrant colours and patterns of insects under the microscope in Small Backlit Animals. In Cities Gone Wild, Corey Arnold (United States) tracks black bears, coyotes and raccoons across the United States, exploring how these animals are uniquely equipped to co-exist with humans in urban environments.
The work of finalist and shortlisted photographers in the Professional competition was judged by: Mariama Attah, Head of Exhibitions at Open Eye Gallery, Liverpool, UK; Tandazani Dhlakama, Assistant Curator at Zeitz MOCAA, Cape Town, South Africa; Elisa Medde, Editor in Chief, FOAM Magazine, Netherlands; Ioana Mello, Independent Curator and Photo Editor; Directing Member, FotoRio, Brazil; Sujong Song, Senior Curator, National Museum of Modern and Contemporary Art (MMCA), Republic of Korea; and Mike Trow, Independent Curator and Photo Editor and Chair of the Jury.
Commenting on behalf of the jury, Chair of the Jury, Mike Trow says: 'Finding original and different viewpoints photographically is challenging - but ever more rewarding as photographers embrace global visual trends and at the same time explore their own culture and history. In 2023 we have come up with another exciting and challenging set of competition winners from across the globe and covering such a range of narratives...from bold takes on architecture to empowering documentary work, daring portraiture and beautiful and heartfelt creative work. All categories brought up a wide range of opinions from the experienced and respected jury members. They covered the profound and ongoing discussions around narrative truth and agency in art, as well as wider environmental, political and societal viewpoints. I hope those who get to see the work can get a sense of why we chose what we chose and can see how photography talks to all of our own personal experiences of life.'
The overall winners in the Student, Youth, Open and Professional competition of the Sony World Photography Awards 2023 will be announced on the 13 April 2023 and will go on display as part of the exhibition at Somerset House, London from 14 April-1 May 2023. For more information about winners and shortlists please visit www.worldphoto.org
PROFESSIONAL COMPETITION 2023 FINALISTS AND SHORTLIST
ARCHITECTURE & DESIGN

Finalists

Fan Li, China Mainland
​ Servaas Van Belle, Belgium
​ Andres Gallardo Albajar, Spain

Shortlist
​ Javier Arcenillas, Spain
​ Pavlo Dorohoi, Ukraine
​ Peter Franck, Germany
​ Johanna Marcela Garavito Morales, Colombia
​ Miguel Gutierrez, Venezuela
​ Mitsuru Sakurai, Japan

CREATIVE

Finalists
​ Noemi Comi, Italy
​ Lee-Ann Olwage, South Africa
​ Giulia Piermartiri & Edoardo Delille, Italy

Shortlist
​ Richard Boll, United Kingdom
​ Alessandro Cinque, Italy
​ Valentina Fusco, Italy
​ Juliana Jacyntho, Brazil
​ Tommaso Sacconi, Italy
​ Emily Steinberger, USA

DOCUMENTARY PROJECTS

Finalists
​ Hugh Kinsella Cunningham, UK
​ Mohammed Salem, Palestinian Territory
​ Tariq Zaidi, UK

Shortlist
​ Alessandro Cinque, Italy
​ Radu Diaconu, Canada
​ Mingrui Liu, China Mainland
​ Yoese Mariam, Indonesia
​ Mads Nissen, Denmark
​ Frederick Olivera Gonzales, Peru
​ Emin Sansar, Turkey

ENVIRONMENT

Finalists
​ Jonas Kakó, Germany
​ Marisol Mendes (Bolivia) &
​ Federico Kaplan (Argentina)
​ Axel Javier Sulzbacher, Germany

Shortlist
​ Lasse Branding, Germany
​ Fatma Fahmy, Egypt
​ Haider Khan, India
​ Angela Ponce, Peru
​ Simone Tramonte, Italy
​ Bruno Zanzottera, Italy

LANDSCAPE

Finalists
​ Fabio Bucciarelii, Italy
​ Kacper Kowalski, Poland
​ Bruno Zanzottera, Italy

Shortlist
​ Cesar Dezfuli, Spain
​ Nicholas Holt, UK
​ Amélie Labourdette, France
​ Brais Lorenzo Couto, Spain
​ Alessandro Mallamaci, Italy
​ Francesco Merlini, Italy
​ George Steinmetz, USA

PORTFOLIO

Finalists
​James Deavin, UK
​ Marjolein Martinot, Netherlands
​ Marylise Vigneau, France

Shortlist
​Israel Fuguemann, Mexico
​ Jack Gasiorowski, Poland
​ Tadas Kazakevicius, Lithuania
​ Taiye Omokore, Nigeria
​ Ines Vansteenkiste-Muylle, Belgium

PORTRAITURE

Finalists
​ Edgar Martins, Portugal
​ Jean-Claude Moschetti, France
​ Ebrahim Noroozi, Islamic Republic of Iran

Shortlist
​ Jae In Lee, Republic of Korea
​ Toby Binder, Germany
​ Jerome Delay, France
​ Colin Delfosse, Belgium
​ Sasha Maslov, Ukraine

SPORT

Finalists
​ Al Bello, USA
​ Andrea Fantini, Italy
​ Thomas Morel-Fort, France

Shortlist
​ Giuseppe Carotenuto, Italy
​ Josef Hlavka, Czech Republic
​ Ronald Hoogendoorn, Netherlands
​ Anthony Smith, Canada
​ John Wessels, South Africa
​ Nicola Zolin, Italy

STILL LIFE

Finalists
​ Carloman Macidiano Céspedes Riojas, Peru
​ Jagoda Malanin, Poland
​ Kechun Zhang, China Mainland

Shortlist
​ Austin Crail, USA
​ Alun Crockford, UK
​ Elaine Duigenan, UK
​ Klaus Lenzen, Germany
​ Rodrigo Masina Pinheiro, Brazil
​ Liz Mcburney, UK

WILDLIFE & NATURE

Finalists
​ Corey Arnold, USA
​ Adalbert Mojrzisch, Germany
​ Sriram Murali, India

Shortlist
​ Martin Broen, USA
​ Julia Christe, Germany
​ Masahiro Fujita, Japan
​ Dillon Marsh, South Africa
​ Aneesh Sankarankutty, India
​ Zhu Zhu, Canada

 

 
IMAGES AVAILABLE AT PRESS.CREOARTS.COM
PRESS CONTACTS
​ FOR FURTHER INFORMATION, PLEASE CONTACT:
​ Inbal Mizrahi / Polly Brock on media@creoarts.com
NOTES TO EDITORS
ABOUT SONY WORLD PHOTOGRAPHY AWARDS
​ Produced by the World Photography Organisation, the internationally acclaimed Sony World Photography Awards is one of the most important fixtures in the global photographic calendar. Now in its 16th year, the free-to-enter Awards are a global voice for photography and provide a vital insight into contemporary photography today. For both established and emerging artists, the Awards offer world-class opportunities for exposure of their work. The Awards additionally recognise the world's most influential artists working in the medium through the Outstanding Contribution to Photography award; the renowned Japanese photographer Rinko Kawauchi is the 2023 recipient of this award, joining a distinguished list of iconic names including Martin Parr, William Eggleston, Candida Hofer, Nadav Kander, Gerhard Steidl, Edward Burtynsky and Graciela Iturbide. The Awards showcase the works of winning and shortlisted photographers at a prestigious annual exhibition at Somerset House, London. worldphoto.org/sony-world-photography-awards-exhibition
ABOUT WORLD PHOTOGRAPHY ORGANISATION
​ World Photography Organisation is a leading global platform dedicated to the development and advancement of photographic culture. Its programming and competition initiatives provide valuable opportunities for artists working in photography and help broaden the conversation around their work. The Sony World Photography Awards is World Photography Organisation's principal programme. Established in 2007, it is one of the world's biggest and most prestigious photography competitions; celebrating the work of leading and emerging practitioners and attracting tens of thousands of visitors annually to its exhibitions worldwide. World Photography Organisation is the photography strand of Creo, responsible for delivering initiatives and programming across three sectors: photography, film and contemporary art. Follow the World Photography Organisation on Instagram (@worldphotoorg), Twitter (@WorldPhotoOrg) and LinkedIn/Facebook (World Photography Organisation). Our hashtags to follow are #sonyworldphotographyawards #swpa #swpanews.
CREO
​ Creo initiates and organises events and programming across three key strands: photography, film and contemporary art. Established in 2007 as World Photography Organisation, Creo has since grown in scope, furthering its mission of developing meaningful opportunities for creatives and expanding the reach of its cultural activities. Today, its flagship projects include the Sony World Photography Awards, Sony Future Filmmaker Awards, PHOTOFAIRS Shanghai, Photo London and the forthcoming PHOTOFAIRS New York (Sep 2023). Working in partnership with Angus Montgomery Arts, Creo helps deliver the group's ventures, comprising some of the world's leading art fairs. Taking its name from the Latin for 'I create', it is in this spirit that Creo sets out to empower and give agency to creative voices. www.creoarts.com
SONY GROUP CORPORATION
​ Sony Group Corporation is a creative entertainment company with a solid foundation of technology. From Game & Network Services to Music, Pictures, Electronics Products & Solutions, Imaging & Sensing Solutions and Financial Services - Sony's purpose is to fill the world with emotion through the power of creativity and technology. For more information, visit: sony.com/en
SONY CORPORATION
​ Sony Corporation is responsible for the Entertainment, Technology & Services (ET&S) business in the Sony Group. With the vision of "continuing to deliver Kando and Anshin* to people and society across the world through the pursuit of technology and new challenges," Sony will create products and services in areas such as home entertainment & sound, imaging, and mobile communications. For more information, visit: www.sony.net * Both Japanese words, Kando means emotion and Anshin has various meanings such as peace of mind, reassurance, reliability and trust.
IMAGE CREDITS – GRID (FROM TOP ROW, LEFT TO RIGHT):
​ © Andres Gallardo Albajar, Spain, Finalist, Professional competition, Architecture & Design, Sony World Photography Awards 2023
​ © Noemi Comi, Italy, Finalist, Professional competition, Creative, Sony World Photography Awards 2023
​ © Lee-Ann Olwage, South Africa, Finalist, Professional competition, Creative, Sony World Photography Awards 2023
​ © Marisol Mendez & Federico Kaplan, Bolivia, Argentina, Finalist, Professional competition, Environment, Sony World Photography Awards 2023
​ © Hugh Kinsella Cunningham, United Kingdom, Finalist, Professional competition, Documentary Projects, Sony World Photography Awards 2023
​ © Dillon Marsh, South Africa, Shortlist, Professional competition, Wildlife & Nature, Sony World Photography Awards 2023
​ © James Deavin, United Kingdom, Finalist, Professional competition, Portfolio, Sony World Photography Awards 2023
​ © Johanna Marcela Garavito Morales, Colombia, Shortlist, Professional competition, Architecture & Design, Sony World Photography Awards 2023
​ © Jerome Delay, France, Shortlist, Professional competition, Portraiture, Sony World Photography Awards 2023
​ © Ines Vansteenkiste-Muylle, Belgium, Shortlist, Professional competition, Portfolio, Sony World Photography Awards 2023
​ © Edgar Martins, Portugal, Finalist, Professional competition, Portraiture, Sony World Photography Awards 2023
​ © Taiye Omokore, Nigeria, Shortlist, Professional competition, Portfolio, Sony World Photography Awards 2023
​ © Colin Delfosse, Belgium, Shortlist, Professional competition, Portraiture, Sony World Photography Awards 2023
​ © Ebrahim Noroozi, Iran, Islamic Republic Of, Finalist, Professional competition, Portraiture, Sony World Photography Awards 2023
​ © Angela Ponce, Peru, Shortlist, Professional competition, Environment, Sony World Photography Awards 2023