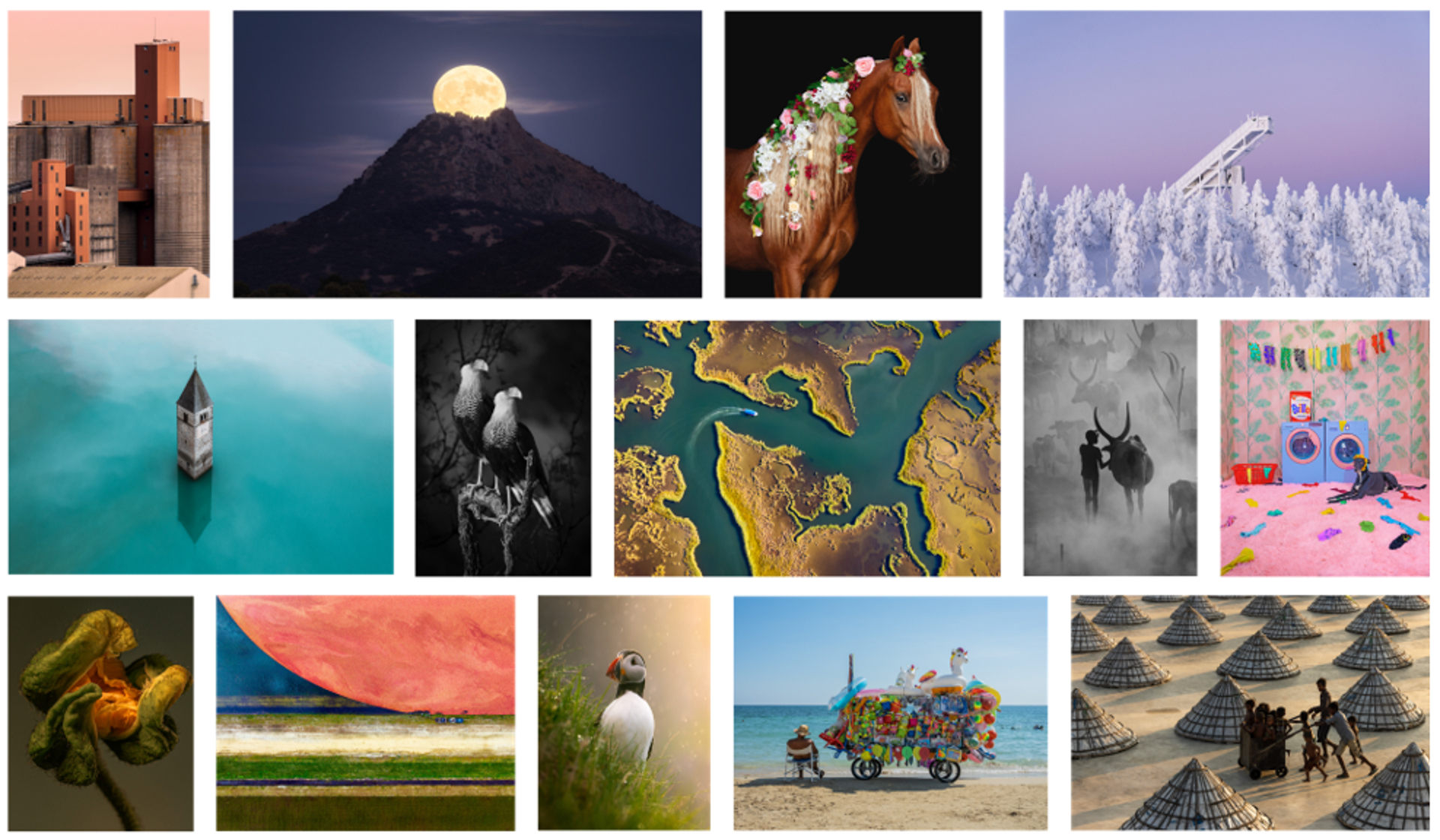 CATEGORY WINNERS & SHORTLIST ANNOUNCED
​ EXHIBITION: 14 APRIL - 1 MAY 2023 | SOMERSET HOUSE, LONDON
The World Photography Organisation is pleased to announce the category winners and shortlist in the Open competition of the Sony World Photography Awards 2023, recognising the best single shots from 2022.
Over 415,000 images from over 200 countries and territories were submitted to the Sony World Photography Awards 2023 and over 200,000 were entered into the Open competition. Each winner receives digital imaging equipment from Sony and will go on to compete for the prestigious Open Photographer of the Year title and a $5,000 (USD) prize.
The overall winner of the Open competition will be announced at the Awards' ceremony in London on 13 April. Selected winning and shortlisted images will be shown as part of the Sony World Photography Awards exhibition at Somerset House from 14 April-1 May 2023.
The ten category winners are:
ARCHITECTURE
​Mark Benham (United Kingdom) for The Silos, a collage-like image of silos and surrounding buildings in eye-catching rosy hues at the Port of Brest in France.
LANDSCAPE
​Giorgos Rousopoulos (Greece) for his image of a Greek mountain landscape featuring a hiker climbing up Mount Tymfi, standing majestically in the background and overlooking Pindus National Park.
LIFESTYLE
​Azim Khan Ronnie (Bangladesh) for Childhood, capturing children weaving in and out of scores of giant cones (topas) in a Bangladeshi rice processing plant as they play with a cart used by workers to carry and dry rice.
MOTION
​Zhenhuan Zhou (China Mainland) for Slam on the Brakes, capturing a cowgirl in a barrel racing competition in Ontario, Canada. In these competitions, cowgirls ride around barrels with the quickest one crowned as the winner.
NATURAL WORLD & WILDLIFE
​Dinorah Graue Obscura (Mexico) for Mighty Pair, a black-and-white portrait taken during a trip in South Texas, featuring two crested caracara birds standing still and looking out beyond the camera in the same direction, as if posing for the photographer.
OBJECT
​Mieke Douglas (Netherlands) for Recycled, all is not as it seems in a trompe l'oeil shot of flower-like plastic bags and tulle arranged as a bouquet, inviting us to take a second look.
PORTRAITURE
​Sukhy Hullait (United Kingdom) for Charlie, a portrait shot centre-frame of a young teenager who, along with his friends, decided to turn an abandoned pub car park into a skatepark when most of them were closed during the pandemic.
STREET PHOTOGRAPHY
Andreas Mikonauschke (Germany) for Exhausted, an evocative black-and-white portrait of men at the point of exhaustion after lifting and carrying heavy wooden frames with statues showing biblical scenes through the streets of Andalusia during the traditional Easter processions of 'Semana Santa'.
TRAVEL
Max Vere-Hodge (United Kingdom) for Ghosts, a dramatic black-and-white photograph of the Mundari tribe of South Sudan appearing among the nightly fires they light to keep the tsetse flies and mosquitoes off their beloved Ankole-Watusi cows.
This year's Open competition was judged by Eric Schlosser, Art Director, Tbilisi Art Fair, Georgia.
The overall winners in the Student, Youth, Open and Professional competitions of the Sony World Photography Awards 2023 will be announced on 13 April 2023 and will go on display as part of the exhibition at Somerset House, London from 14 April-1 May 2023. For more information about winners and shortlists please visit www.worldphoto.org
OPEN COMPETITION 2023 WINNERS AND SHORTLIST
ARCHITECTURE
​Category Winner
​ Mark Benham, UK
​Shortlist
​ Robert Bolton, UK
​ Tony Cowburn, UK
​ Fabio Del Ghianda, Italy
​ Peter Dulis, Canada
​ Donell Gumiran, Philippines
​ Yichien Lee, Taiwan
​ Angiolo Manetti, Italy
​ Desmond Chien Yew Ngu, Malaysia
​ Margit Lisa Roeder, Germany
​ Yuya Takahashi, Japan
​ George Turnbull, UK
​ Kjell Vikestad, Norway
​ Albrecht Voss, Germany
​ Beatrice Wong, Hong Kong
CREATIVE
​Shortlist
​ Elli Asker, Azerbaijan
​ Nicolas Bigot, France
​ Hardijanto Budyman, Indonesia Enda Burke, Ireland
​ Bilal EL Harousse, Morocco
​ Mariola Glajcar, Poland
​ Yi Han, China Mainland
​ Peter Irungu, Kenya
​ Richard Poe, USA
​ Angel Ros Die, Spain
​ Namukolo Siyumbwa, Zambia
​ Kinga Wnuk, Poland
​ Chenghao Zhao, China Mainland
LANDSCAPE
​Category Winner
​ Giorgos Rousopoulos, Greece
​Shortlist
​ Olivia Bennett, UK
​ Isabel Bielderman, Netherlands
​ Robert Bilos, Croatia
​ Jordi Coy, Spain
​ David Del Rosario Dávila, Spain
​ Gill Fry, Australia
​ Judith Kuhn, Germany
​ Bing Li, Canada
​ Roberto Pavić, Croatia
​ Michael Prince, USA
​ Martin Rak, Czech Republic
​ Andreja Ravnak, Slovenia
​ Indirani Thevar, India
​ Marcin Zajac, Poland
LIFESTYLE
​Category Winner
​ Azim Khan Ronnie, Bangladesh
​Shortlist
​ Francesco Bambi, Italy
​ Ruth Chamberlain, UK
​ Raffaella De Luise, Italy
​ Mohamad Ali Harisi, Lebanon
​ Sabbir Hossen, Bangladesh
​ Jessica Innemee, Netherlands
Kathryn Mussallem, Canada
Ninoshka Pais, Canada
​ Markus Pasa, Austria
​ Jean Veron, France
​ Zuojian Wang, China Mainland
MOTION
​Category Winner
​ Zhenhuan Zhou, China Mainland
​Shortlist
​ Zacarías Abad Torres, Spain
​ Pedro Luis Ajuriaguerra Saiz, Spain
​ Kristian Hvidtfeldt Buus, Denmark
Ricardo García Mainou, Mexico
​ Gabriel Hernandez, Spain
​ Leo Huang, Taiwan
​ Andres Moreno, Colombia
​ Francesco Junior Mura, Italy
​ Raido Nurk, Estonia
​ Kazutoshi Ono, Japan
​ Ata Ranjbar Zeydanloo, Iran, Islamic Republic Of
​ Martin Rickett, UK
NATURAL WORLD & WILDLIFE
​Category Winner
​ Dinorah Graue Obscura, Mexico
​Shortlist
​ Vince Burton, UK
​ Charly Clérisse, France
​ Subrata Dey, Bangladesh
​ Patrick Ems, Switzerland
​ Marcio Esteves Cabral, Brazil
​ Mark Fitzsimmons, Australia
​ Pietro Formis, Italy
​ Jose Manuel Grandio, Spain
​ James Hunter, USA
​ Arnfinn Johansen, Norway
​ Andrea Michelutti, Italy
​ Protap Shekhor Mohanto, Bangladesh
​ Alex Pansier, Netherlands
​ Tibor Prisznyák, Hungary
OBJECT
​Category Winner
​ Mieke Douglas, Netherlands
​Shortlist
​ Masahiko Abe, Japan
​ Giuseppe Colarusso, Italy
​ Zeynep Demirhan, Turkey
​ Tim Green, UK
​ Andrius Kundrotas, Lithuania
​ Xiaoye Jin, China Mainland
​ Roberto Emiliano Porsella Jurado, Argentina
​ Masumi Shiohara, Japan
​ Nan Lay Thwe Oo, Myanmar
​ Catherine Wang, USA
PORTRAITURE
​Category Winner
​ Sukhy Hullait, UK
​Shortlist
​ Brian Cassey, UK
​ Jonathan Damslund, Denmark
​ Donell Gumiran, Philippines
​ Glenn Homann, Australia
​ Sandra Mickiewicz, Poland
​ Nukabari Opuama, Nigeria
​ Lukas Palatinus, Slovakia
​ Louis Park, New Zealand
​ Angela Perez, USA
​ Mwana Pwo, Angola
​ Gemma Sains, UK
​ Christopher Wonder, Nigeria Mateusz Żurowski, Poland
STREET PHOTOGRAPHY
​Category Winner
​ Andreas Mikonauschke, Germany
​Shortlist
​ Nazly Ahmed, Sri Lanka
​ Stan De Zoysa, Spain
​ Lorenzo Grifantini, Italy
​ Rizwan Hasan, Bangladesh
​ Barbara Iwińska, Poland
​ Lucian Alexandru Micu, Romania
​ Cath Muldowney, UK
​ Kathryn Mussallem, Canada
​ Benson Spiers, UK
​ Chin Leong Teo, Singapore
​ Takahiro Toh, Japan
​ Ting Hao Tseng, Taiwan
​ Tommaso Vaccarezza, Italy
​ Pável Vélez, Mexico
TRAVEL
​Category Winner
​ Max Vere-Hodge, UK
​Shortlist
​ Pamela Chiang, Taiwan
​ Erhan Coral, Turkey
​ Tim Daniels, UK
​ Callie Eh, Malaysia
​ Marios Forsos, Greece
​ Takahiro Gamou, Japan
​ Paweł Jagiełło, Poland
​ Guojia Li, China Mainland
​ Yukihito Ono, Japan
​ Adrian Pearce, UK
​ Fabian Pfeifhofer, Italy
​ İsmail Serhat Şahin', Turkey
​ Ankur Tambde, India
​ Yunhua Yu, China Mainland
PRESS CONTACTS
​ FOR FURTHER INFORMATION, PLEASE CONTACT:
​ Inbal Mizrahi / Polly Brock on media@creoarts.com
NOTES TO EDITORS
ABOUT SONY WORLD PHOTOGRAPHY AWARDS
​ Produced by the World Photography Organisation, the internationally acclaimed Sony World Photography Awards is one of the most important fixtures in the global photographic calendar. Now in its 16th year, the free-to-enter Awards are a global voice for photography and provide a vital insight into contemporary photography today. For both established and emerging artists, the Awards offer world-class opportunities for exposure of their work. The Awards additionally recognise the world's most influential artists working in the medium through the Outstanding Contribution to Photography award; the renowned Japanese photographer Rinko Kawauchi is the 2023 recipient of this award, joining a distinguished list of iconic names including Martin Parr, William Eggleston, Candida Hofer, Nadav Kander, Gerhard Steidl, Edward Burtynsky and Graciela Iturbide. The Awards showcase the works of winning and shortlisted photographers at a prestigious annual exhibition at Somerset House, London. worldphoto.org/sony-world-photography-awards-exhibition
ABOUT WORLD PHOTOGRAPHY ORGANISATION
​ World Photography Organisation is a leading global platform dedicated to the development and advancement of photographic culture. Its programming and competition initiatives provide valuable opportunities for artists working in photography and help broaden the conversation around their work. The Sony World Photography Awards is World Photography Organisation's principal programme. Established in 2007, it is one of the world's biggest and most prestigious photography competitions; celebrating the work of leading and emerging practitioners and attracting tens of thousands of visitors annually to its exhibitions worldwide. World Photography Organisation is the photography strand of Creo, responsible for delivering initiatives and programming across three sectors: photography, film and contemporary art. Follow the World Photography Organisation on Instagram (@worldphotoorg), Twitter (@WorldPhotoOrg) and LinkedIn/Facebook (World Photography Organisation). Our hashtags to follow are #sonyworldphotographyawards #swpa #swpanews.
CREO
​ Creo initiates and organises events and programming across three key strands: photography, film and contemporary art. Established in 2007 as World Photography Organisation, Creo has since grown in scope, furthering its mission of developing meaningful opportunities for creatives and expanding the reach of its cultural activities. Today, its flagship projects include the Sony World Photography Awards, Sony Future Filmmaker Awards, PHOTOFAIRS Shanghai, Photo London and the forthcoming PHOTOFAIRS New York (Sep 2023). Working in partnership with Angus Montgomery Arts, Creo helps deliver the group's ventures, comprising some of the world's leading art fairs. Taking its name from the Latin for 'I create', it is in this spirit that Creo sets out to empower and give agency to creative voices. www.creoarts.com
SONY GROUP CORPORATION
​ Sony Group Corporation is a creative entertainment company with a solid foundation of technology. From Game & Network Services to Music, Pictures, Electronics Products & Solutions, Imaging & Sensing Solutions and Financial Services - Sony's purpose is to fill the world with emotion through the power of creativity and technology. For more information, visit: sony.com/en
SONY CORPORATION
​ Sony Corporation is responsible for the Entertainment, Technology & Services (ET&S) business in the Sony Group. With the vision of "continuing to deliver Kando and Anshin* to people and society across the world through the pursuit of technology and new challenges," Sony will create products and services in areas such as home entertainment & sound, imaging, and mobile communications. For more information, visit: www.sony.net * Both Japanese words, Kando means emotion and Anshin has various meanings such as peace of mind, reassurance, reliability and trust.
IMAGE CREDITS – GRID (FROM TOP ROW, LEFT TO RIGHT):
​ © Mark Benham, United Kingdom, Winner, Open Competition, Architecture, Sony World Photography Awards 2023
​ © Jordi Coy, Spain, Shortlist, Open Competition, Landscape, Sony World Photography Awards 2023
​ © Kinga Wnuk, Poland, Shortlist, Open Competition, Creative, Sony World Photography Awards 2023
​ © Isabel Bielderman, Netherlands, Shortlist, Open Competition, Landscape, Sony World Photography Awards 2023
​ © Paweł Jagiełło, Poland, Shortlist, Open Competition, Travel, Sony World Photography Awards 2023
​ © Dinorah Graue Obscura, Mexico, Winner, Open Competition, Natural World & Wildlife, Sony World Photography Awards 2023
​ © İsmail Serhat Şahin', Turkey, Shortlist, Open Competition, Travel, Sony World Photography Awards 2023
​ © Max Vere-Hodge, United Kingdom, Winner, Open Competition, Travel, Sony World Photography Awards 2023
​ © Enda Burke, Ireland, Shortlist, Open Competition, Creative, Sony World Photography Awards 2023
​ © Xiaoye Jin, China Mainland, Shortlist, Open Competition, Object, Sony World Photography Awards 2023
​ © Michael Prince, United States, Shortlist, Open Competition, Landscape, Sony World Photography Awards 2023
​ © James Hunter, United States, Shortlist, Open Competition, Natural World & Wildlife, Sony World Photography Awards 2023
​ © Lorenzo Grifantini, Italy, Shortlist, Open Competition, Street Photography, Sony World Photography Awards 2023
​ © Azim Khan Ronnie, Bangladesh, Winner, Open Competition, Lifestyle, Sony World Photography Awards 2023