Sony Celebrates Eight Wins at 2022 EISA Awards Including Full-Frame Camera for ​ Alpha 7 IV and Multimedia Smartphone for Xperia 1 IV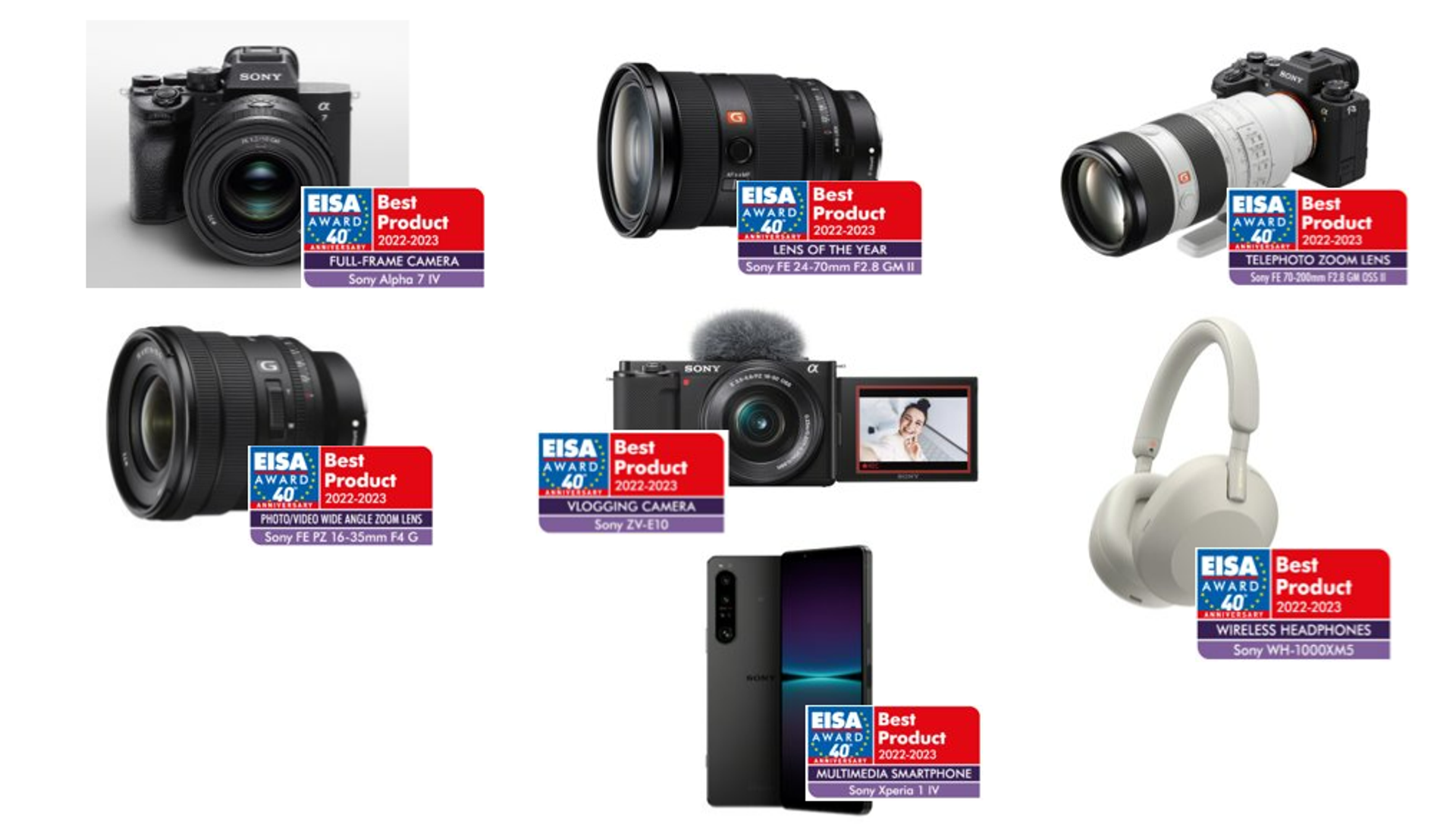 Sony is extremely proud to announce that its quality and innovation has once again been recognised for yet another year at the highly celebrated Expert Imaging and Sound Association Awards. Sony won a total of eight awards across four business groups- including Full- Frame Camera for Alpha 7 IV, Multimedia Smartphone for Xperia 1 IV, and Wireless Headphones for WH-1000XM5.
​​ Full list of Sony awards wins:
​​ • EISA FULL-FRAME CAMERA 2022-2023: Sony Alpha 7 IV
​​ • EISA VLOGGING CAMERA 2022-2023: Sony ZV-E10
​​ • EISA LENS OF THE YEAR 2022-2023: Sony FE 24-70mm F2.8 GM II
​​ • EISA PHOTO/VIDEO WIDE ANGLE ZOOM LENS 2022-2023: Sony FE PZ 16-35mm F4 G
​​ • EISA TELEPHOTO ZOOM LENS 2022-2023: Sony FE 70-200mm F2.8 GM OSS II
​​ • EISA MULTIMEDIA SMARTPHONE 2022-2023: Sony Xperia 1 IV
​​ • EISA WIRELESS HEADPHONES 2022-2023: Sony WH-1000XM5
​​ • EISA PREMIUM OLED TV 2022-2023: Sony XR-65A95K
EISA FULL-FRAME CAMERA 2022-2023: Sony Alpha 7 IV
​​ This full-frame mirrorless camera features significant improvements over its predecessor, the Alpha 7 III, in almost all areas. The new 33-million-pixel back-illuminated CMOS Exmor R sensor and the latest BIONZ XR processor ensure brilliant image quality, while its articulating touchscreen makes it easier to work with, especially for filmmakers and vloggers. The continuous shooting mode enables very long bursts at 10fps, while the fast and reliable autofocus with Real-Time tracking detects the eyes of people, animals and birds. In terms of video, the Alpha 7 IV can shoot UHD 4K/30p from the full width of the sensor, or 4K/60p recording in Super 35mm mode. It also offers a variety of codec, Creative Look and picture profiles including the renowned S-Cinetone for a rich cinematic look.
EISA LENS OF THE YEAR 2022-2023: Sony FE 24-70mm F2.8 GM II
​​ This fast standard zoom for full-frame cameras is designed for photographers and filmmakers alike. It offers very high image quality with beautiful bokeh, along with four fast and reliably controlled XD Linear Motors for autofocus. This second-generation G Master standard zoom lens impresses with its reduced size and weight, while gaining extra features compared to its predecessor. In addition to an aperture ring that can be set to stepless control, it has a zoom smoothness switch that allows the photographer to select between loose and tight, as the photographic situation requires. Two adjustable focus hold buttons provide convenient control.
EISA PHOTO/VIDEO WIDE ANGLE ZOOM LENS 2022-2023: Sony FE PZ 16-35mm F4 G
​​ Sony's latest wide-angle zoom employs a powered zoom mechanism driven by XD Linear Motors for extremely fine and accurate control. This makes it an attractive option for videographers who wish to make smooth, precise zooms during recording. They will also appreciate that there's almost no change in angle of view while focusing, nor any drift in focus on zooming. This lens isn't just for video, though. Its compact, lightweight, weather resistant design and high-quality optics also make it a fine option for landscape photographers who prefer to travel light. Both photographers and videographers also benefit from the lens's extensive controls, including a dedicated aperture ring.
EISA TELEPHOTO ZOOM LENS 2022-2023: Sony FE 70-200mm F2.8 GM OSS II
​​ This fast telephoto zoom lens is a complete redesign of Sony's first FE 70-200mm F2.8 G Master. The new optical design provides corner to corner sharpness throughout the zoom range. The autofocus system is built around two pairs of XD linear motors driving two focus groups, which provides faster focusing and improved focus tracking. Video shooters will appreciate the aperture ring that can be operated in either clicked or clickless mode, as well as reduced focus breathing and focus shift. Despite all these improvements the lens is nearly a third lighter than the original version.
EISA VLOGGING CAMERA 2022-2023: Sony ZV-E10
​​ Just like the vlog camera ZV-1 that won an EISA Award two years ago, the vlog camera ZV-E10 is designed for content creators, with the added benefit of using interchangeable lenses. It's an excellent camera for both photos and video, offering fast and accurate autofocus, complemented by Real-Time Eye AF. The vari-angle LCD-monitor is a great help in both photo and video modes, including selfies, while in video mode the high-quality microphone with its included wind screen ensures crystal-clear audio. In addition, the vlog camera ZV-E10 supports the latest video technology, from 4K to live streaming, and numerous features that make creating and sharing vlogs very easy in all kinds of situations.
EISA MULTIMEDIA SMARTPHONE 2022-2023: Sony Xperia 1 IV
​​ Sony's multi-talented smartphone impresses from the outset thanks to its modern, sleek design and the robust glass finish of its display and rear side chassis sides but it's what users are getting from the inside that's even more attractive. The Xperia 1 IV features the first ever continuous optical zoom camera system on a smartphone, with moving lenses 85-125mm on the telephoto camera and advanced 120fps read-out image sensor(s) on all lenses. It realises the new standard for professional shooting, either with photography or 4K HDR 120fps video recording. A high-power Qualcomm Snapdragon processor and 5000mAh battery round out the specification of what is truly the multimedia king among smartphones.
EISA WIRELESS HEADPHONES 2022-2023: Sony WH-1000XM5
​​ Headphones you'll always want to take with you, the WH-1000XM5 finds Sony fine-tuning its flagship wireless active industry leading noise cancelling design to great effect. A new-look, with lightweight chassis and "Soft fit leather" features comfortable, cushioned earcups that keep unwanted sounds out without applying too much pressure. Inside, a specially designed driver unit has been created with noise-cancelling in mind and deliver a refined sound with remarkable detail in the low and higher ranges – to enjoy High-Resolution Audio. Four microphones ensure crisp voice calls, with another quartet and two processors deployed for recognition and reduction of external noise and an Auto NC Optimizer automatically optimising noise cancelling triumphs in the busiest of environments. Sony's smartphone app leverages a wide range of functions, turning the WH-1000XM5 into the ultimate daily workhorse.
EISA Premium OLED TV 2022-2023: Sony XR-65A95K (Official EISA citation)
​​ Sony's best-ever OLED TV features all-new QD-OLED panel technology, based on bluelight diodes and a Quantum Dot layer. As a result, the XR-65A95K's peerless images offer deep blacks, intense colours and brightness beyond all expectations, perfected by Sony's multi-faceted Cognitive Processor XR TM. Movie and TV content looks sublime, and naturally this flagship model is ready for gamers with VRR, ALLM and 4K/120Hz playback. Cementing the XR-65A95K's status as a high-end OLED all-rounder is the innovative Acoustic Surface Audio+ sound system, which provides detailed, full-range 2.2-channel sonics that benefit from automatic calibration. Smart skills are handled by Google TV, there is access to the exclusive BRAVIA CORE TM movie app and the supplied Full HD resolution BRAVIA CAM that enables video chat, power saving* and more.
​​ *Auto Power Saving Mode will be available via future firmware update.
For more information, please contact sony@wcommunications.co.uk