Sony today announced the new Xperia 10 IV smartphone, developed around the concept of a large battery with the integration of Sony's unique technologies, all in an ultra-lightweight, compact design. Xperia 10 IV is an exceptional mid-range handset that has been designed with improved performance, quality, and portability in mind.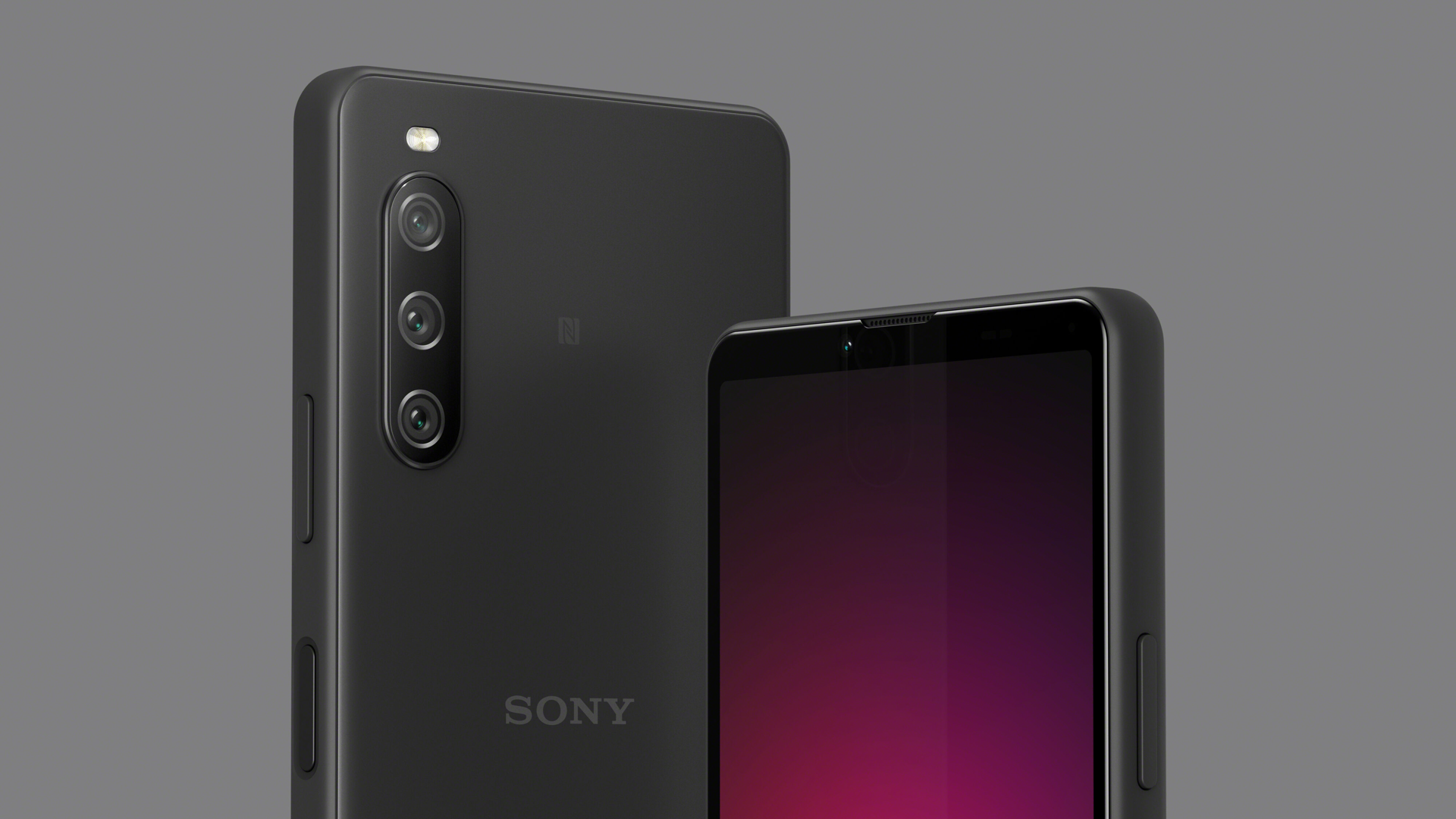 World's lightest 5G smartphone with 5000mAh top-class large capacity battery
Optical image stabilisation (OIS) for clear photo and video performance with less blur
Improved camera performance:
Automatic HDR shooting with low illuminance
Improved night mode shooting with superior noise reduction
Clear digital zoom with super-resolution
Stunning selfies with AI
Increased screen brightness heightens the beauty on its 21:9 OLED display
Immersive sound with 360 Reality Audio and 360 Reality Audio Upmix
Tough "Corning® Gorilla® Glass Victus®" adds to IP65/68 water resistance to make this mid-range Xperia even more durable
11th May 2022 - Sony today announced the new Xperia 10 IV smartphone, developed around the concept of a large battery with the integration of Sony's unique technologies, all in an ultra-lightweight, compact design. Xperia 10 IV is an exceptional mid-range handset that has been designed with improved performance, quality, and portability in mind.
Performance and Design
A large, powerful battery in a lightweight, hand-fit body - the Xperia 10 IV combines all-day battery power and fast performance. It's the world's lightest 5G smartphone to feature a large capacity 5000mAh or more battery, giving all the power you need to enjoy using your Xperia 10 IV from dawn to dusk and beyond. Thanks to Xperia Adaptive Charging, users have the ultimate battery life reliability, even after three years of use. This works by monitoring the battery whilst charging to ensure that it isn't overworked – keeping the battery healthy for longer.
Weighing just 161g, the Xperia 10 IV is lightweight and easy to handle, whether you're taking photos and videos, playing games, browsing, texting or calling. In addition to this, cutting the height and width of the bezel by 1mm creates a naturally comfortable 67mm width hand-fit design. Featuring IP65/68 water and dust resistance, the Xperia 10 IV is built for everyday life, so you can use it worry-free, whether you're out for a run or lounging poolside. The Xperia 10 IV display uses Corning® Gorilla® Glass Victus®. The tough Gorilla® Glass brings improvement in both drop and scratch performance. Snapdragon® 695 5G Mobile Platform can easily handle all your apps, movies, games and more, with high performance and power efficiency for superior connectivity.
Xperia 10 IV comes in 4 different colour options; Black, White, Mint and Lavender.
Photos and videos made easy
With a triple lens camera and a range of useful functions for stills and video, capturing life has never been easier. When you see a photo opportunity, Xperia 10 IV helps you get the right shot first time with Superior Auto, which uses scene conditions and subject detection technology. Xperia 10 IV then automatically selects the ideal settings such as ISO and shutter speed for the best shot. With three different lenses - 16, 27, and 54mm - you have lenses for all types of shooting.
Shake-Free Photos and Videos by Advanced Blur reduction
When taking a photo, especially in the evening or in a lowlight scene, the slightest movement of your hand can cause the image to be blurred. But the Xperia 10 IV lets you take blur less images, even in low light conditions, thanks to Optical Image Stabilisation technology. It also allows longer shutter speed for noiseless design, due to capturing more light. Optical Image Stabilisation (OIS) isn't just for stills, it works for videos too. When you're recording video on the move, unique Optical SteadyShot technology and hybrid image stabilisation ensure the results are less blurry and shake free.
Beautiful details in every shot & Less noise in low light
With photos taken in poor light, bright areas often appear over exposed and dark areas blacked out, so detail is lost. But the Xperia 10 IV can detect this and automatically shoot in HDR, reproducing all detail in exceptional clarity. In addition, improved night mode lets you shoot even clearer shots. Shooting at night or in low light, image quality can often be negatively impacted by visual noise. However, Xperia 10 IV has improved the image quality in night mode by utilising RAW data in its internal processing.
Modern smartphone cameras need to perform equally well, whether shooting stills or video. And thanks to an expanded dynamic range, the Xperia 10 IV captures video with remarkably clear detail and less whiteout or blackout, even in high contrast conditions like bright daylight.
Clear Close-ups & Stunning Selfies
Normally, when you're shooting a subject in the distance using a smartphone's telephoto lens, image resolution is compromised when you zoom in with digital zoom. But thanks to the super resolution zoom feature on the Xperia 10 IV, you can shoot clear images even at long focal lengths. When you take a selfie, especially indoors or in poor light, conventional cameras automatically try to reduce noise, causing details such as hair, eyebrows, and eyelashes to be lost but again, the application of smart AI technology in Xperia 10 IV means that the selfies will be improved with clarity.
Exceptional picture quality on high contrast OLED display
Boasting a beautiful 6.0" 21:9 wide OLED display, with no notch or camera hole to impair your view, the Xperia 10 IV lets you lose yourself in movies, games and more. Even 15% brighter while viewing than its predecessor model, the 21:9 wide OLED display reproduces breath-taking images with vivid colours and true blacks. Drawing on Sony's many years of TV expertise, unique TRILUMINOS®DISPLAY for mobile, from Sony's TV expertise, and video image optimisation enhances the display for content viewing and reproducing exquisite, vibrant images.
The 21:9 screen easily divides into two sections, or one window pops up over another – perfect for browsing the web and watching a video at the same time. In Multi-window mode you can quickly switch between your last used and recommended apps – making it faster to find the app you want in the top and bottom window.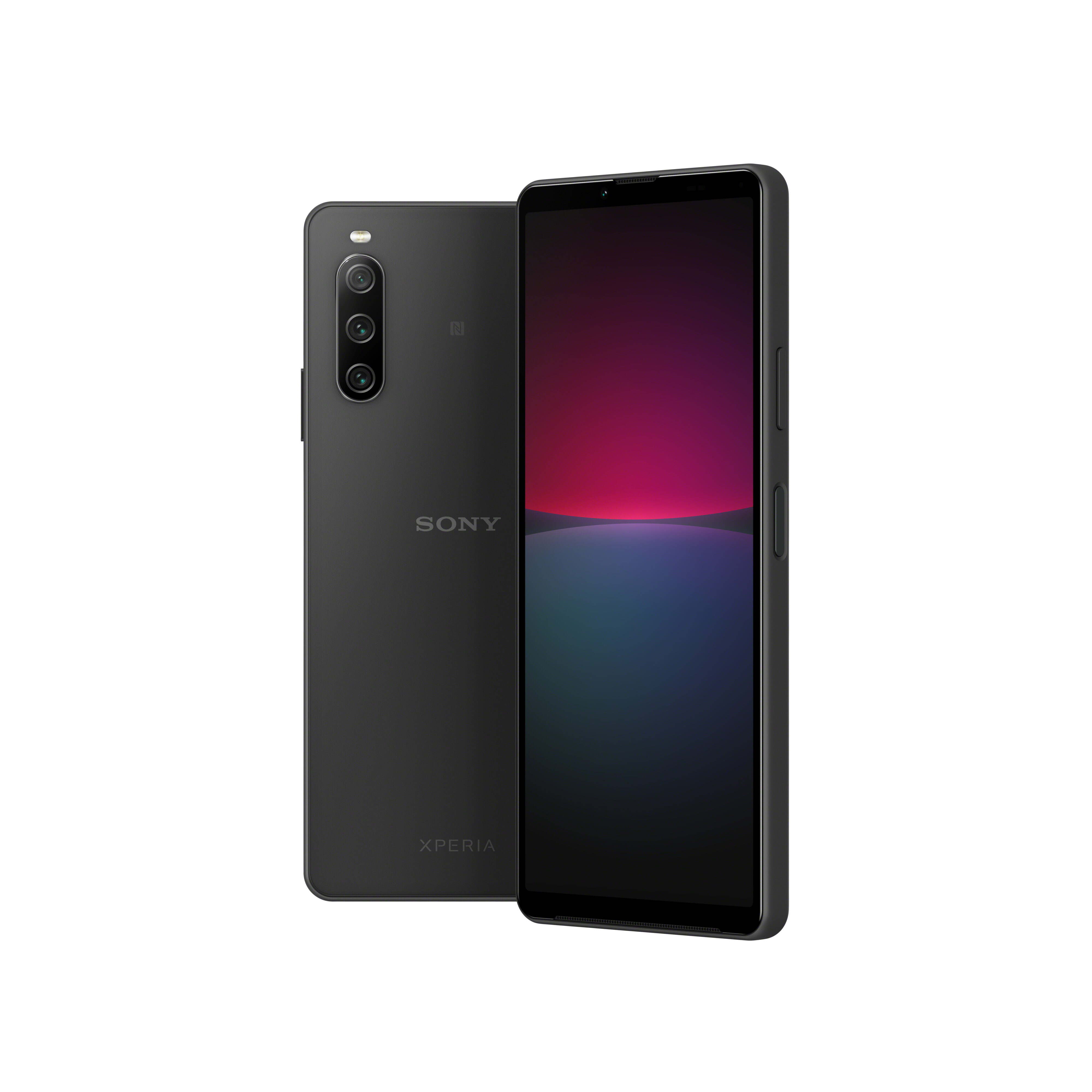 Immerse Yourself in Premium Sound
Featuring a range of premium audio technologies, the Xperia 10 IV offers music lovers an exceptional listening experience. With High-Resolution Audio, you can plug in your favourite headphones via 3.5mm audio jack and hear music that reproduces the full range of sound, with dynamics and detail just as the artists intended. High-Resolution Audio is available even with wireless headphones. LDAC transmits approximately three times more data (at the maximum transfer rate of 990 kbps) than conventional Bluetooth® audio, allowing you to enjoy High-Resolution Audio content wirelessly in exceptional quality, as close as possible to that of a dedicated wired connection.
Upgrade Your Music's Sound Quality
DSEE Ultimate enhances the sound quality of your digital music. Working in real time, it uses AI technology to reproduce the detailed acoustic subtleties and clear high-frequency sounds often lost during audio compression. It works with wired or wireless headphones, on local files and even streaming services. ​ When the Xperia 10 IV is paired with Sony headphones, you can easily access the Sony Headphones Connect app using the Side sense menu – handy when you want to quickly adjust sound settings to suit your situation.
Upmix Stereo Music to Multi-Dimensional Sound
The Xperia 10 IV is designed for 360 Reality Audio to optimise sound quality when listening to music through headphones on Amazon Music, Deezer, nugs.net and TIDAL. 360 Reality Audio Upmix enables the Xperia 10 IV to upmix 2-channel stereo tracks into an immersive sound experience by headsets, in real time. The technology works with local audio files and streaming services to further enhance your listening experience.
Accessories
If you so wish, you can have your Xperia 10 IV accompanied with a style cover with a built-in stand. This slim cover is coated with anti-bacterial materials, designed to fit perfectly in your hand, and made with Sony's quality and durability.
Road to Zero
The Sony Group has set an environmental plan "Road to Zero" aiming for zero environmental footprint by 2050. As part of this, Sony has set a medium-term target from Fiscal 2021 to 2025 as "Green Management 2025" (GM2025). In GM2025, one goal is to "totally eliminate plastic packaging materials" in newly designed small products, and Xperia has so far reduced the use of plastic in packaging, eliminating plastic components or replacing them with paper materials. Examples include replacing plastic film lamination with abrasion-resistant varnish. As part of Sony's sustainability drive, the packaging for the Xperia 10 IV uses no plastic, with plastic components either eliminated or replaced with paper materials. The box is approximately 50% slimmer than previous models with the charger and cable excluded from the box, optimising transportation efficiency.
Pricing and Availability
The Xperia 10 IV will be on sale with Android™ 12 from mid-June 2022 for approximately €499/£429. ​ The Xperia 10 IV product announcement video can be viewed on YouTube™: https://www.youtube.com/watch?v=RLaDk1xzho4
And more information on it can be found on the product homepage: https://www.sony.co.uk/electronics/smartphones/xperia-10m4
The Xperia 10 IV at 161g is the world's lightest 5G smartphone with a battery of 5,000mAh or higher capacity. Verified by Strategy Analytics' SpecTRAX Service against the published video specifications for >20,800 smartphones. Correct as of the 11th May 2022.
Charger and cable are not included in the box. 30W Fast Charger XQZ-UC1 is recommended.
Simulated result by Sony Corporation, based on actual usage profile using the same type of battery and USB charging. The life span of the battery depends on your usage.
This device is water resistant and protected against dust. All ports and attached covers should be firmly closed. Do not put the device completely underwater or expose it to seawater, salt water, chlorinated water or liquids such as drinks. Abuse and improper use of device will invalidate warranty. The device has been tested under Ingress Protection rating IP65/68. Sony devices that are tested for their water-resistant abilities are placed gently inside a container filled with tap water and lowered to a depth of 1.5 metres. After 30 minutes in the container, the device is gently taken out and its functions and features are tested. Note this model has a capless USB port to connect and charge. The USB port needs to be completely dry before charging.
Dependent on market.
Available only with Telephoto (54mm) and Wide (27mm) lenses
Available only with Telephoto (54mm) and Wide (27mm) lenses.
Compared to Xperia 10 III. Display brightness may vary according to settings, usage and contents.
Requires compatible headphones
Requires compatible headphones
Requires compatible headphones.
The effect of the feature may vary depending on music services.
Third party terms, conditions, account, and fees may apply. Service availability may vary by market. This offer may be subject to individual terms and conditions; it may be changed, interrupted, or discontinued at any time; and it may require fees, registration and credit card information. Only one offer per person. Requires product to be connected to the wireless network.
Some features may not be available for all services and contents. The effect may vary depending on the contents.
This material is antibacterial but not antivirus. There is not guaranteed effect on viruses such as COVID-19. Antibacterial effect based on JIS Z 2801 testing.
Packaging refers to the individual product box, as well as components such as in-box trays, spacers, wraps and sleeves.
Using genuine charger / cable for charging is recommended.